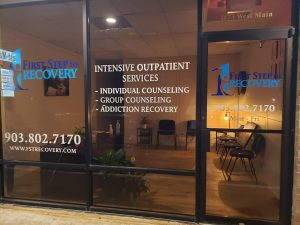 Gun Barrel City, Texas
Intensive Outpatient Program (IOP) for Adults
At Resolutions Healthcare's "First Step to Recovery" treatment center in Gun Barrel City, TX, we know that individuals seeking addiction treatment may not have the full flexibility needed to pursue inhouse recovery. Work and family may cause challenges for recovery away from home. Everyone should seek treatment regardless of obligations. We understand that successful recovery has no 'one size fits all' model. Each and every person who seeks sobriety needs individualized attention to promote behavioral change.  Our Intensive Outpatient Program (IOP) allows our patients to receive personalized intensive rehab therapy without the commitment of temporarily living in a treatment facility.
Intensive Outpatient Program (IOP) at our new facility in Gun Barrel City, Texas.
Our goal is to provide the best tools and resources to our clients, so they can live their best lives. Individuals need different levels of care, and our Intensive Outpatient Program (IOP) is created for men and women with alcohol and drug problems who do not require more advanced levels of residential treatment. With an IOP program, you will not live at a treatment facility. You are able to live at home and continue your daily responsibilities.
What is an Intensive Outpatient Program?
• Intensive Outpatient Programs allows for part-time addiction therapy treatment for recovery.
• Also known as IOP, these programs help you create and promote positive recovery skills via weekly sessions.
• You can live at home and receive the specific treatment you need for your recovery process.
• Clients typically interface 3 to 4 times a week for 3 hours at a time over a designated recovery period.
• IOP is still an intensive therapy and clients must dedicate themselves to recovery structure even if it is part-time.
Why Choose First Step To Recovery in Gun Barrel City, TX?
In addition to our evidence-based programming, we also offer an additional trauma and addictions track that focuses on how past trauma impacts current addictions. You will learn how to identify "unhealthy grounds" that have fueled your addictions. You will learn to replace those "unhealthy grounds" with healthy ones that will assist you in your recovery.
Our structured, supportive addiction treatment plans offer evidence-based care for long-term sobriety. So many of our clients leave here firmly grounded into recovery and ready to enjoy purposeful and meaningful new lives. We help our clients learn how to transition, by teaching life strategies and coping skills to help live a life of sobriety once treatment is completed.
The Unique Gun Barrel City Intensive Outpatient Program (IOP) Offers:
• Continuing care for clients leaving a residential treatment program.
• Potential alternative to inpatient treatment
• Treatment options for working adults
• Lower costs vs an inpatient program
• No travel is necessary with virtual convenience
• Gun Barrel City office offers a proprietary Resolution Focused Therapy (RFT) trauma and addiction's-based recovery program for those suffering from past unresolved trauma that has led to current addictions.
At First Step to Recovery, we are passionate about recovery and that is why we offer an Intensive Outpatient Program (IOP) for adults. Our goal is to help clients discover they have the power to be stronger than their addiction and take back their life.
Our counselors educate and help clients learn to:
• Identify how past trauma impacts their current addictions
• Identify triggers
• Learn healthy "grounding" techniques
• Cope with stress
• Handle impulse control
• Prevent Relapses
• Acknowledge cravings
• Establish healthy boundaries
• Manage depression, anger, and anxiety
• Strengthen communication skills
• Grow towards a healthy lifestyle
• Implement supportive aftercare
Call (903) 802-7170 for more information on First Step to Recovery's online IOP Gun Barrel City treatment programs.